(function(w, d, t, s, n) { w.FlodeskObject = n; var fn = function() { (w[n].q = w[n].q || []).push(arguments); }; w[n] = w[n] || fn; var f = d.getElementsByTagName(t)[0]; var e = d.createElement(t); var h = '?v=' + new Date().getTime(); e.async = true; e.src = s + h; f.parentNode.insertBefore(e, f); })(window, document, 'script', '
https://assets.flodesk.com/universal.js&#8217
;, 'fd');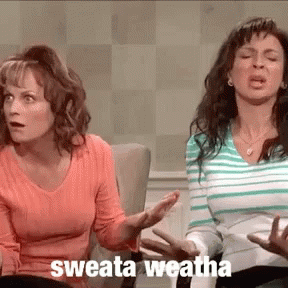 It's here, people: sweater weather. And I'm definitely 100% here for it. Funny how I can go from loving my flip flops to dying for my booties. This season I'm really into funnel neck sweaters and front tucks so today I'm sharing a few faves from around the web! Most of these are on major sale, BTW!
This thick ribbed material would be great with a silky skirt or high-waist jeans. Comes in a couple colors, but this deep teal in particular is so pretty in person.
This guy comes in tons of colors and sizes, and you can't beat the price! I love the wide 3/4 sleeve and flowy style.
I saw this on my friend Emma last school year while we were on hallway duty and was surprised to hear her say it was from Land's End. To be honest, I've never really shopped their stuff. I'd breeze right past it in Sears at the mall, dismissing it as clothes that were a little too preppy for me. But this sweater is sleek and beautiful in person and comes in three colors. Size down.
I realize I use the term "love" very loosely here on Cobble but I am in love with this sweater. The cream and camel tones are so classic, and with it being longer, would be so cute tucked into a skirt with tall boots or with black jeans and booties.
I mean, is anyone else itching for the holidays? Something about this buffalo check pattern always reminds me of grey, snuggly days at home on the couch. It comes in a red/black and black/white pattern, as well.
Here's two other shops that have really cute fall stuff with great discount codes/sales!
Goodnight Macaroon: Currently circulating in the Insta-blogger world, get 20% off with code: "event19". (Side note I think I need this romper for next summer.)
Amaryllis Apparel: Really good deals in the sale section and currently offering 15% off your first order. Lots of unique pieces like this satin blouse and this chic one-shoulder top! Plus you can see Tayshia from the Bachelor's pretty face all over the site!
As always, thank you so much for reading along. If you liked this post, subscribe to stay in the loop with the Cobble&Brick weekly newsletter!
window.fd('form', { formId: '5d8e8b05a9d16a000fc6fd88', containerEl: document.querySelector('#fd-form-5d8e8b05a9d16a000fc6fd88') });